Now that we've gotten through the Anima Christi, I want to go through my thoughts on the mysteries of the Rosary. The Rosary has always been there in my life, popping up here and there long before I was Catholic. I remember my cousins praying the Rosary, I remember a friend praying it in college, I remember getting myself in a little trouble at Sunday School by knowing and defending the Hail Mary (not exactly something a good Baptist would do). I feel that Mary was always there, gently leading me closer to her Son, leading me into the Church and the Eucharist. She's still there, pointing me to Jesus all the time, if I just pay attention.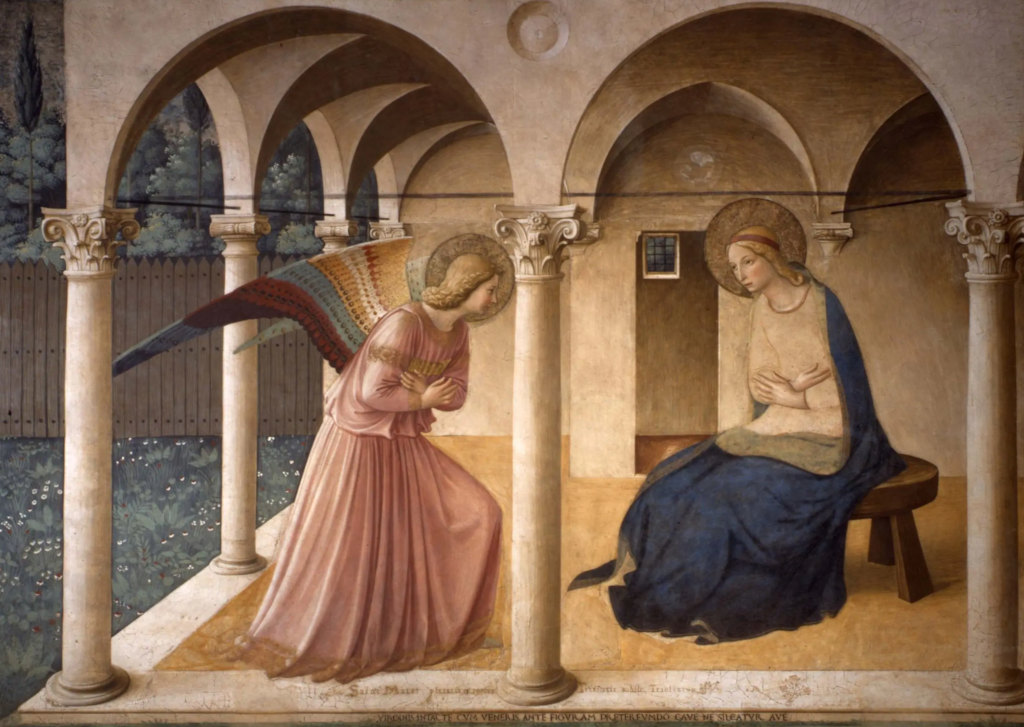 Fra Angelico's The Annunciation, from artbible.info
The First Joyful Mystery: the Annunciation
This mystery is taken from Luke 1:26-38:
26 In the sixth month the angel Gabriel was sent by God to a town in Galilee called Nazareth,
27 to a virgin betrothed to a man named Joseph, of the House of David; and the virgin's name was Mary.
28 He went in and said to her, 'Rejoice, you who enjoy God's favour! The Lord is with you.'
29 She was deeply disturbed by these words and asked herself what this greeting could mean,
30 but the angel said to her, 'Mary, do not be afraid; you have won God's favour.
31 Look! You are to conceive in your womb and bear a son, and you must name him Jesus.
32 He will be great and will be called Son of the Most High. The Lord God will give him the throne of his ancestor David;
33 he will rule over the House of Jacob for ever and his reign will have no end.'
34 Mary said to the angel, 'But how can this come about, since I have no knowledge of man?'
35 The angel answered, 'The Holy Spirit will come upon you, and the power of the Most High will cover you with its shadow. And so the child will be holy and will be called Son of God.
36 And I tell you this too: your cousin Elizabeth also, in her old age, has conceived a son, and she whom people called barren is now in her sixth month,
37 for nothing is impossible to God.'
38 Mary said, 'You see before you the Lord's servant, let it happen to me as you have said.' And the angel left her.
Mary's faith astounds me. I wish I always responded by just saying "let it be done to me according to thy word", but I don't. I fight, I protest, I want to do it my way. I have a lot to learn from Mary.
Of course, this mystery also resonates with me as a mother. I know what joy and fear come with seeing that positive pregnancy test, but how much more would that joy and fear be magnified when bearing your Saviour in your womb? Though without sin and dedicated to God, I'm sure she felt the full range of emotions with the message the angel brought. In the Rosary, I meditate on these events in the life of Jesus through the eyes of Mary, and seeing God humble Himself to take on flesh and dwell in the womb of Mary and then to dwell among us: it's just amazing. And all of Mary's words and actions point to Jesus, which is also amazing.