The Third Joyful Mystery: the Nativity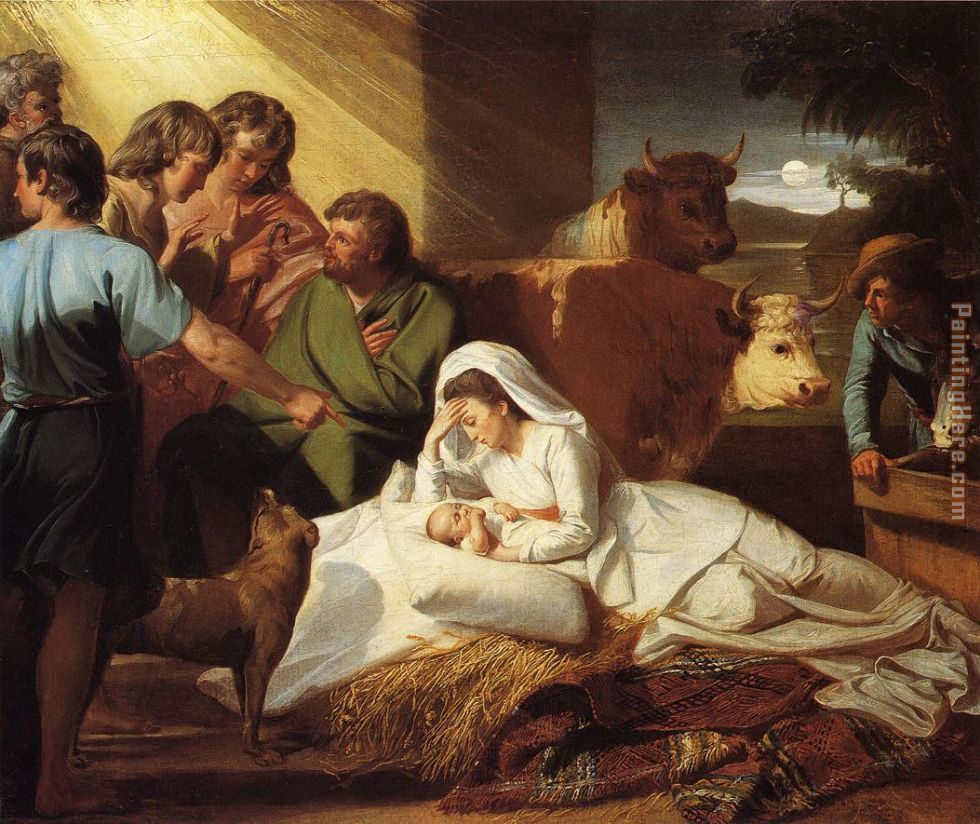 John Singleton Copley's The Nativity, found here: http://www.paintinghere.com/painting/The_Nativity_986.html
First the Scripture,
Luke 2:1-20
(from the New Jerusalem Bible):
1 Now it happened that at this time Caesar Augustus issued a decree that a census should be made of the whole inhabited world. 2 This census -- the first -- took place while Quirinius was governor of Syria, 3 and everyone went to be registered, each to his own town.
4 So Joseph set out from the town of Nazareth in Galilee for Judaea, to David's town called Bethlehem, since he was of David's House and line, 5 in order to be registered together with Mary, his betrothed, who was with child.
6 Now it happened that, while they were there, the time came for her to have her child, 7 and she gave birth to a son, her first-born. She wrapped him in swaddling clothes and laid him in a manger because there was no room for them in the living-space.
8 In the countryside close by there were shepherds out in the fields keeping guard over their sheep during the watches of the night. 9 An angel of the Lord stood over them and the glory of the Lord shone round them. They were terrified, 10 but the angel said, 'Do not be afraid. Look, I bring you news of great joy, a joy to be shared by the whole people. 11 Today in the town of David a Saviour has been born to you; he is Christ the Lord. 12 And here is a sign for you: you will find a baby wrapped in swaddling clothes and lying in a manger.' 13 And all at once with the angel there was a great throng of the hosts of heaven, praising God with the words: 14 Glory to God in the highest heaven, and on earth peace for those he favours.
15 Now it happened that when the angels had gone from them into heaven, the shepherds said to one another, 'Let us go to Bethlehem and see this event which the Lord has made known to us.' 16 So they hurried away and found Mary and Joseph, and the baby lying in the manger. 17 When they saw the child they repeated what they had been told about him, 18 and everyone who heard it was astonished at what the shepherds said to them.
19 As for Mary, she treasured all these things and pondered them in her heart. 20 And the shepherds went back glorifying and praising God for all they had heard and seen, just as they had been told.
I can't remember exactly when, but a few years ago it really hit me about Jesus, the Bread of Life, being born in Bethlehem, the House of Bread. It really amazes me how these seemingly little details show us something so wonderful and miraculous. Just as Jesus came humbly in Bethlehem, he comes to us humbly in the appearance of bread of wine every single day now. It's easy to forget that or to overlook that the same Jesus who was born in Bethlehem, who walked and lived and died and rose again and is in Heaven, is also in the Eucharist. In fact, this reminds me of the
"My Daily Eucharist"
for today:
Is there any real difference between Jesus in heaven and Jesus in the Eucharist? No, it is the same Jesus. The only difference is in us. We now on earth cannot see or touch him with our senses. But that is not a limitation in him; it is a limitation in us.
We speak correctly of believing in the Real Presence. But we should grow in our understanding of what this implies.
The living, breathing Jesus Christ is in the Blessed Sacrament. This is the reality. When we speak of presence, however, we are saying something more.
Two people may be really near each other physically, but not present to each other spiritually. To be present to someone means to have another person in mind by being mentally aware of their existence, and to have them in one's heart by loving that other person...
Jesus is on earth in the Blessed Sacrament. Why? In order that we might come to him now no less than his contemporaries did in first century Palestine. If we thus approach him in loving faith, there is no limit to the astounding things he will do. Why not? In the Eucharist he has the same human lips that told the raging storm, "Be still!" and commanded the dead man, "Lazarus, come forth!"
There are no limitations to Christ's power, as God, which he exercises through his humanity in the Eucharist. The only limitation is our own weakness of faith or lack of confidence in his almighty love.
Soul Magazine
Fr. John A. Hardon, S.J
I also love Mary's response to all this. She treasures these things in her heart. I'm reminded that I need to meditate on these things, treasure them in my heart, more instead of taking them for granted or responding with "yeah, I know all that, OK". Once again, Mary points me to Jesus.